Centrifugal Transfer Pump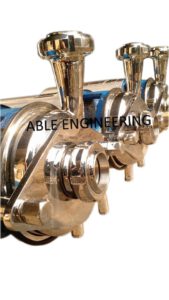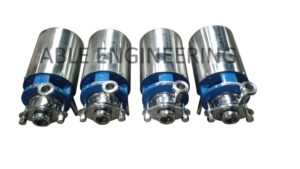 Centrifugal Transfer Pumps are used to transfer the liquid and process the liquid  from one to another vessel in Pharmaceutical, Herbal Extraction, Chemical, Calcium Plant and Food Processing Plant and in every industry  to transfer the product in liquid form and process that from one to another vessel or process. The Centrifugal Transfer Pump will be of sanitary design and provided with mechanical seal. We manufacture high quality and durable Centrifugal Transfer Pump. We are using latest technology in order to meet variegated demands of clients. Able Engineering is manufacturing highly durable and high quality build Centrifugal Transfer Pumps. We strictly follow the quality process and quality assurance. We offer a wide assortment of Centrifugal Transfer Pump, which are extensively used in various engineering, fluid based and other industries for transporting of milk, juice, water, chemicals, etc. Fabricated using high grade stainless steel, these pumps are acknowledged for high durability and flexibility. Innovatively designed, these pumps ensure trouble free performance and energy efficiency.
These pumps are stainless steel centrifugal mono bloc and bare pumps (coupled). These pumps are made from SS-304 or SS-316 sheet. The pumps are precisely fabricated.
We manufacture this pump by employing optimum quality raw material and sophisticated technology in adherence to the set industrial standards. Owing to features like precise design and easy operation, our offered pump has been able to earn a lot of popularity in the market. Clients can avail the entire range of pump from us in various sizes and at affordable prices.
Applications:

Milk, cream, buttermilk condensed milk
Fruit juice, beer, wine, sugar syrup
Vitamin solutions, sugar & confectionery
RO water, dm water, pure water. Water for injection (wfi)
Vegetable oil, mineral oil, lube oil etc.
Pharmaceutical formulations, syrup, etc.
Alkaline solution / alcoholic drinks
Acids, fine chemicals
Bottling plants, soft drinks & distillery
Food processing / liquid food stuffs
Color dyes and pigments / paints
Descaling applications, paper & cement industries
Water treatment plants
Detergent, soaps, paste & shampoo
Textile sizing, dyeing & finishing systems
Natural cellulose fiber / synthetic fiber system
Hot & cold water pumping

Other Details:

As all pumps are made from rolled stainless steel, mechanical properties are far superior than cast material
Pore free, non-pitting and non-adhering smoother surface, so less friction tosses, and less crevice corrosion
Super finish surface also ensures no ingress or emission of germs or impurities during pumping or idling, which is the basic requirement of the sterile / hygienic application
Pumps are available with dosed/semi open impellers
The best elastomers are used in the pumps to provide optimum resistance to high temperatures and chemicals
Minimum working / rotating parts
Safe and quite operation levels
Specifications:
Flow: 3.6~2400m3/H
Max.Head: >150m
Size: Customized