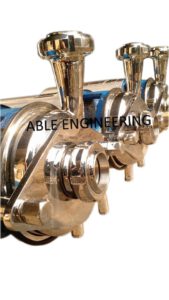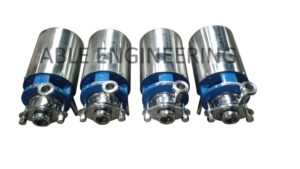 Able Engineering is a leading Manufacturer of Milk Transfer Pump. These pumps are famous for many names like Centrifugal Pump, Transfer Pump, Milk Pump and Dairy Pump. The pumps of sanitary design would be used for transfer of milk/ghee/butter having capacities up to 30 KLPH consisting flange motor of suitable capacity with the hygienic sealing arrangement. The pump and drive would be integrated together with a SS shaft and the impeller (SS 304) would be fixed on the same shaft.
The pump will be of sanitary design and provided with mechanical seal. We manufacture, supply and trade excellent Centrifugal Pump. We are using latest technology in order to meet variegated demands of clients.
›     MODULAR CONSTRUCTION, HIGH INTERCHANGEABILITY, FAST DELIVERY.
›     VERSATILE SHAFT SEALING ARRANGEMENT, GLAND PACKING AS A STANDARD ARRANGEMENT AND OPTION TO USE MECHANICAL SEAL.
›     PROCESS TYPE DESIGN RESULTS IN MINIMUM DOWNTIME.
›     CLOSED IMPELLER ENSURES HIGH EFFICIENCY FOR A LONG PERIOD OPERATION.