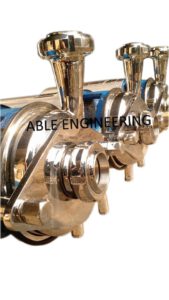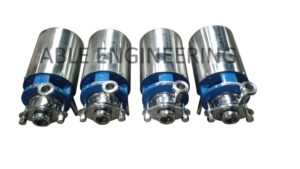 To transfer the extract from storage tank to evaporator balance tank in Herbal and Solvent Extraction Plants. To transfer the liquid and process the liquid  from one to other vessel in Pharmaceutical Plants and Chemical Plants. The pump will be of sanitary design and provided with mechanical seal. We manufacture, supply and trade excellent Centrifugal Pump. we are using latest technology in order to meet variegated demands of clients.
›     MODULAR CONSTRUCTION, HIGH INTERCHANGEABILITY, FAST DELIVERY.
›     VERSATILE SHAFT SEALING ARRANGEMENT, GLAND PACKING AS A STANDARD ARRANGEMENT AND OPTION TO USE MECHANICAL SEAL.
›     PROCESS TYPE DESIGN RESULTS IN MINIMUM DOWNTIME.
›     CLOSED IMPELLER ENSURES HIGH EFFICIENCY FOR A LONG PERIOD OPERATION.