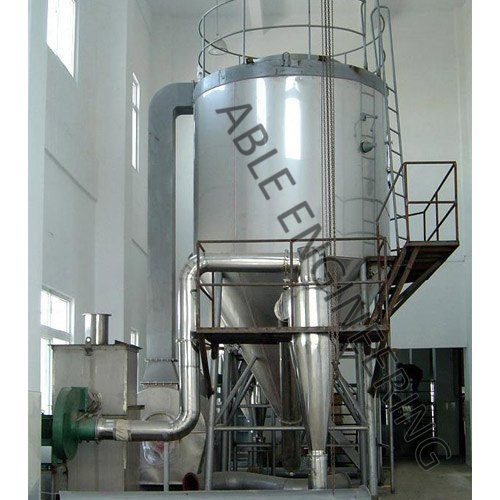 Able Engineering is a leading manufacturer of Spray dryers for Herbal Extraction Plants to dry Herbal Extract. Spray Dryer is widely used in the industry for converting liquid solutions/ suspensions/ slurry /emulsions to powder, granules, or agglomerates. The advantages of spray drying are consistent product quality, with better control of product parameters like product moisture, bulk density, particle size, dispersion, flowability, etc.

Spray drying is a method of producing a dry powder from a liquid or slurry by rapidly drying with a hot gas. This is the preferred method of drying of many thermally-sensitive materials such as foods and pharmaceuticals. A consistent particle size distribution is a reason for spray drying some industrial products such as catalysts. Air is the heated drying medium.

The air is blowing in the same direction as the sprayed liquid (co-current). This Process produces a fine powder. Contact Able Engineering for Herbal Extract Spray Dryer.
For exhaust air cleaning and powder recovery/separator Spray Dryer consists of a feed pump, atomizer, air heater, air dispenser, drying chamber ,and systems. In a spray dryer, these are the three stages that occur before drying accomplishes include:-
Atomization
Evaporation of moisture and spray-air mixing
Separation of dry product from the exit air.
Advantages:-
Product quality and properties can be effectively controlled and maintained.
This is an energy-intensive equipment.
It can dry thermolabile products/pharmaceuticals at atmospheric pressure and low temperature.
A Spray dryer provides extensive flexibility in its design handles and a wide range of production rates.
Corrosion problem is minimal in spray dryers.