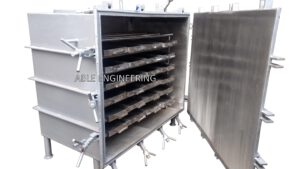 Vacuum Tray Dryer (VTD) is suitable for drying of thermal sensitive materials easily resolved, polymerized or deteriorated under higher temperature widely used in Herbal Extraction Plants and Pharmaceutical Plants. Sterilization can be conducted prior to the drying process, during which no matter is allowed to enter the product. Able Engineering manufacturers the most qualitative Vacuum Tray Dryer that are well known for their high quality and efficiency levels. This gamut of products is in high demand in the market for heating and drying up of various items involved in the manufacturing processes of several industries.
Features
Light and sight glass provided for checking the process of material.
Temperature gauge and vacuum gauge are provided for monitoring.
Lock hinges are modified for better grip and easily sealed the chamber.
Gasket provided in the door for reduce the chances of leakage.
Optional
Digital temperature meter can be provided
High mirror polish can be provided
12 to 96 Trays