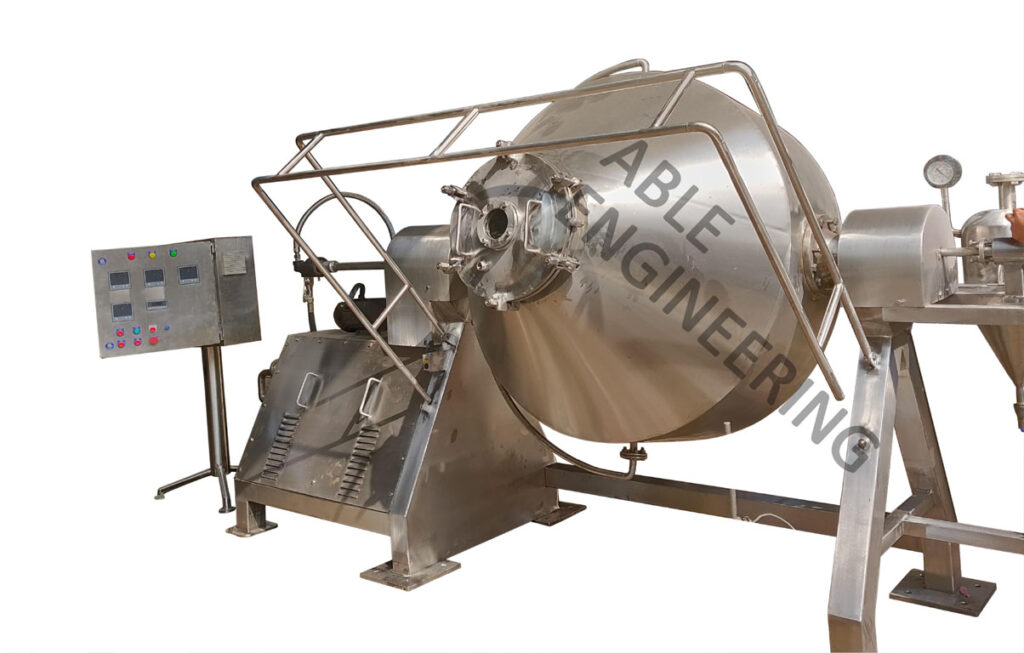 Rotary Double Cone Vacuum Dryer suitable for only free-flowing materials, which are readily converted from the slurry or wet cake to free-flowing powder without exhibiting sticking or lump forming properties during the drying operations. Rotary Double Cone Vacuum Dryer inside structure is simple, easy-clean, dry material can discharge totally and operation is easy. Further, these can also be customized as per the specifications provided by our clients. We customize our products as per client requirements. Able Engineering provides high-quality Rotary Double Cone Vacuum Dryers at a reasonable price.
SALIENT FEATURES/MOC (GMP Model)
Inner shell/cone and contact parts in SS316.
Heating (H.W./Stream) Jacket in SS304.
Insulation with a jacket in SS304.
Cyclone separator in SS304.
Drive unit enclosed with SS Covers.
FLP motor and electricals.
Provision for nitrogen purging.
Digital temperature indicator (FLP) at hot water inlet and outlet.
Digital temperature indicator (FLP).
Temperature and vacuum gauges (Dial type on cone).
Safety guard with limit switch. Pulse-jet type dust filter is provided inside the cone.
Butterfly valve at the discharge.
Positioning wheel for cone.
Drive: Gearbox and motor direct coupled and box to cone drive shaft chain drive/Hbull gear and pinion.
Construction and finish as per cGMP standards.
OPTIONALS:
Digital temperature controller (FLP) with a pneumatic valve at the hot water inlet.
Lump breakers on the cone with FLP motor and dry mechanical seals.