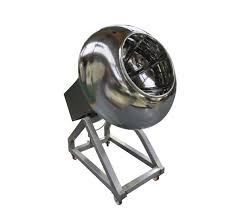 Tablet Coating Pan is used for sugar and film coating of tablets, pallets, and granules. Tablet coating is a common technique of applying a thin polymer-based film to a tablet containing active pharmaceutical ingredients (APIs). The unit comprises of ellipsoidal-shaped pan fabricated using a stainless steel sheet and mounted on the gearbox shaft, which is driven by an electric motor. Able Engineering is a leading and well-known manufacturer of Tablet Coating Pan and Pharmaceutical Plant Machinery in India.
It is an equipment that coats the outer surface of tablet with a thin layer of coating material:
To mask the taste, odor, and color of the drug.
Provides physical and chemical protection to the drug and also prevent decomposition of drugs sensitive to air (oxygen), light, or humidity.
To minimize the unpleasant taste of certain drugs that may come during partial dissolution of the drug in buccal fluids during absorption.
It improves swallowability by increasing the surface smoothness in the mouth.
Provides visual appeal and consistency, smooth surface texture, and uniform distribution of color.
To serve as anticounterfeiting medium by incorporating tracer compounds in the coating material.
Features:-
The complete drive unit is enclosed in a sturdy cabinet.
Hot air blower with flexible SS Pipe heaters are provided with thermostat control for fast drying.
Heaters are interlocked with the blower motor therefore unless the blower is on, the heater does not start.