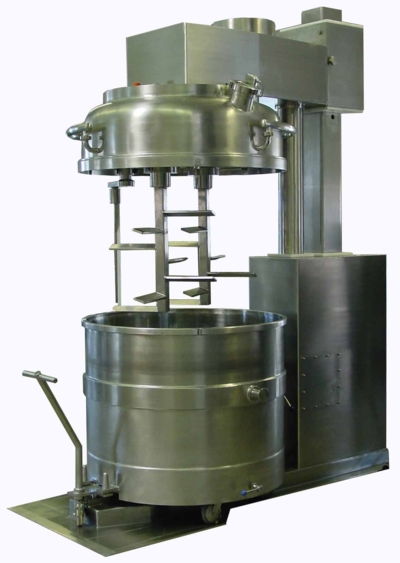 A Planetary mixer is used for the basic operations of mixing and blending. We offer a complete range of Collette planetary mixers, from lab-scale to large production machines, with all features and options that a client requires for flexible production. Our range of planetary mixers is in strict compliance with cGMP standards. These mixers are ideal for the products of different viscosities, densities, shapes & proportions. It is also suitable for mixing / blending powders as well as thorough mixing of ointments, creams, lotions, toothpaste, resins, slurries, ceramics, colors, pigments, rubber & other compounds. These industrial planetary mixers are designed to be used in Pharmaceutical Plants.
Able Engineering is a leading manufacturer of Pharmaceutical Plant Machinery and provides the best quality Planetary Mixers at reasonable prices.
Standard Features of Planetary Mixer :
Vacuum bowl.
It is built-in strong body to ensure low vibrations and smooth functioning.
Easy retraction of mixing bowl for rapid and convenient cleaning.
Compact design.
High mixture homogeneity in shorter mixing time.
High wear-resistant mixer-wearing parts.
Electronic variation of continuous speed.
Heating double jacket bowl.
Motorized up-down movement of the bowl by imported gear motor for easy operation.
Bowl scraper.
ADF version.
Low maintenance cost.
Bowl tipping hoist.
All stainless steel version.