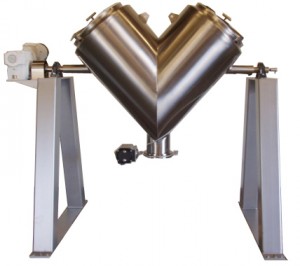 V Type Blender is mostly used in pharmaceutical plants for the intimate dry blending of free-flowing solids. The machine is made up of 2 hollow cylindrical containers joined together at an angle of 75 to 90. The solids being blended in these units can vary in bulk density and in the percentage of the total mixture. Materials being blended are constantly being split and intermixed as the shell rotates. Normal cycle times are typically in the range of 15 minutes, however, can be less depending on the difficulty of blending. We manufacture V Blenders according to customer's requirements. The Blender is most suitable for paints, dyestuffs, and pharmaceuticals. Suitable for dry mixing of products in powder form. Able Engineering provides the best quality V Type Blender at an affordable price.
Features:-
Easy to charge and discharge materials.
The design of the machine ensures the complete discharge of the product.
No product contamination.
Product container having discharge with butterfly valve and manhole.
Made up of long-lasting and durable materials.
Easy to clean.
All contact parts of stainless steel.
Fixed baffles for lumps braking.
Electric control panel with cycle time.
The container has discharge with butterfly valve and manhole too.
Minimum maintenance.
Safety Features :
Safety reeling with limit switch.
Overload protection and emergency stop.