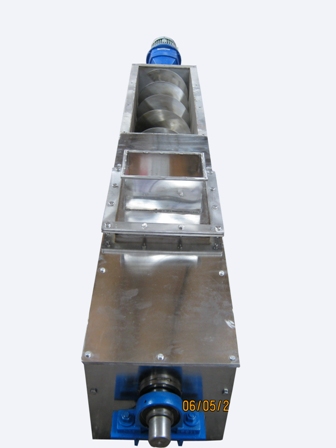 Screw conveyors are used to transfer the material like powder or grains form in Food Processing Plants. . A screw conveyor is a mechanism that uses a rotating helical screw blade usually within a tube to move liquid or granular materials. This can carry material either horizontally or vertically or at any angle if required. Screw conveyor can be operated with the flow of material inclined upward. The Screw Conveyor can be manufactured according to the client's requirement. The Stainless Steel screw conveyor is highly efficient and durable. We also make mobile screw conveyors for pharmaceutical plants. Able Engineering is a leading manufacturer of Food Processing Plant Machinery in India. We provide High-Quality Screw Conveyor at affordable prices.
Some of Its Features:-
High performance.
Modular design makes them easy to install.
Corrosion resistance.
Easy to clean.
These are closed off to prevent any type of product from leaking or spilling.
Screw conveyor is capable of handling a wide range of bulk materials from slow to free-flowing.
Long-life durability.
Consumes less space.