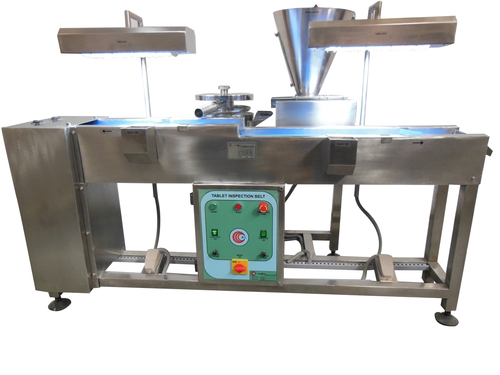 Tablet Inspection Belt is efficient & reliable for manually identifying and removing defective products. The feeding speed of the tablet can increase or decrease by electronic regulators. Tablets are inspected on one side and get reversed automatically and start traveling on the lower belt for inspection of the other side of the tablet. The operator can manually remove tablets with various defects, including broken, chipped, off-color, contaminated, or foreign particles on the tablet surface. The tablets fill in the hopper and get automatically places on the conveyor belt through vibration, the operator inspects the front side of the tablet at one end of the belt and the second operator inspects the reverse side of the tablet at the other end. We also designed and manufacture Tablet Inspection Machine according to the client's specific requirement.
Able Engineering is a leading and well-known manufacturer of Tablet Inspection Machine and Pharmaceutical Plant Machinery manufacturer in India
Some Features of Tablet Inspection Belt:-
Stainless steel contact parts.
Steel or synthetic materials ensure non-contamination.
Speed is adjustable of both conveyor and Tablet feed.
Extra-large hopper.
The position of Hopper is vertically adjustable.
Hopper level is easily visible to the operators.
For the smooth motion of the conveyor, guide rollers are with double ball bearings.
Dust collecting tray with cleaning brush is also below the conveyor.
Very easy to maintain.