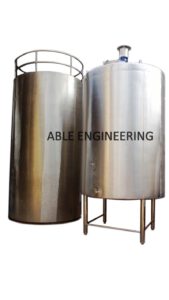 Able Engineering is a leading manufacturer of the storage tank and integrated liquid holding solutions. These tanks are highly functional in distribution systems and facilitate optimal use of processing equipment. Our specialty is the supply of high-quality, hand-crafted storage tank. These tanks are specially designed and quoted to prevent the settlement of impurities and corrosion. Storage tanks are often cylindrical in shape, perpendicular to the ground with flat bottoms, and a fixed frangible or floating roof. These tanks can be used to hold materials such as petroleum, waste matter, water, chemicals, and other hazardous materials. These are available in many shapes: vertical and horizontal cylindrical; open top and closed top; flat bottom, cone bottom, slope bottom, and dish bottom.
We manufacture solvent storage tanks having a capacity in the range of 250 liters to 150,000 liters. We provide full customization on our storage tanks as per the specifications and requirements of the client.
Able Engineering is a leading manufacturer of Herbal Extraction Plant, Chemical Plant & Herbal Extraction Plant Machinery manufacturer in India.