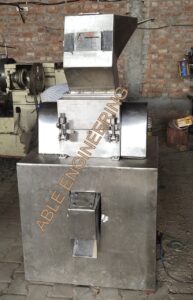 Universal Coarse Crusher is applied as supporting equipment, before fine crushing process in such trade as pharmaceutical, chemical and foodstuff etc., which has better crushing effect for any material without limitation on its viscosity, hardness, softness and fiber etc.
Able Engineering is a leading manufacturer of Herbal Extraction Plant, Chemical Plant & Herbal Extraction Plant Machinery manufacturer in India.
Working Principle of Universal Coarse Crusher:
This Coarse Crusher is of vertical crushing structure, and the material is fed into the crushing chamber through a hopper, crushed by simultaneous cutting of both fixed and movable knives and rotating impact of rotating knife, and flows to the exit automatically under the effect of rotating centrifugal force. Its designed according to GMP standard and wholly made of stainless steel, making the medicine and food met the national hygienic requirement.